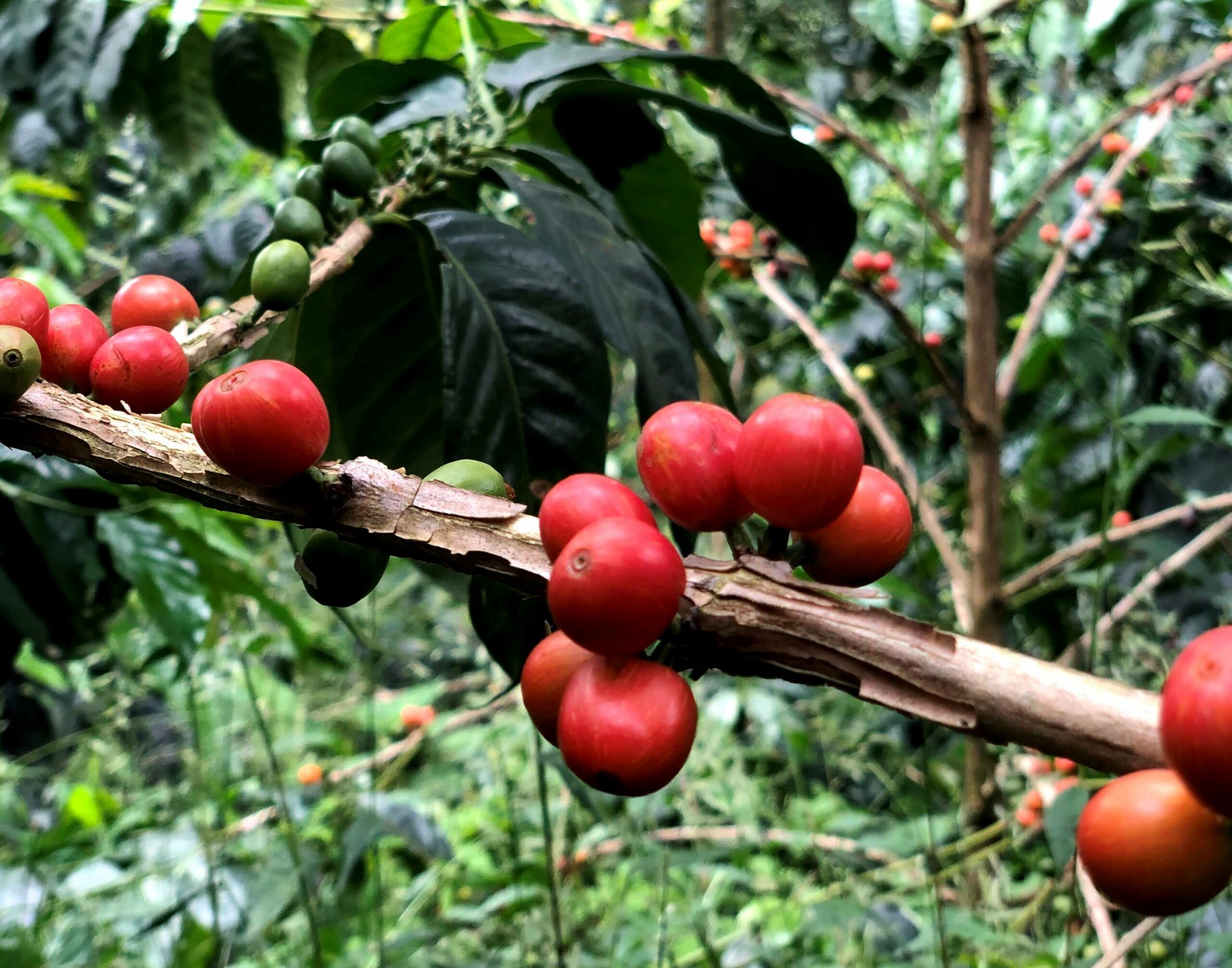 [Pink Bourbon Cherries at El Fenix – Photo courtesy of Raw Material]
Rebirth. Is it possible to bring back what has been destroyed, stronger and better than it was before? As the phoenix that rises from the ashes, can the coffee industry adapt with its very future at stake? We are staring down the barrel of a global coffee crisis, coffee farmers and producers face unprecedented challenges, from the global climate emergency to fluctuating commodity prices, and the struggle to make a sustainable living from coffee is ever present. That being said, what if there was a different way?
Well, back in 2016 an amazing bunch of people tried to find one. Our friends at Raw Material came up with the idea for the El Fenix project, a project that looked to try and tackle some of the issues that coffee producers face. Raw Material is a non profit green coffee production and trading company that looks to provide coffee producers economic freedom through coffee production.  Raw Material ran a successful Kickstarter campaign to fund the El Fénix project in order to aid the construction of a community wet mill in the eastern municipality of Quindío, Colombia. The project's logic was simple. Better post-harvest processing improves cup quality significantly and gives farmers more control over the final product. Consistently better coffee means access to the specialty market, that rewards quality by paying premiums and where prices are more predictable. That equals more money in the community. And more money equals social and economical sustainability for the region.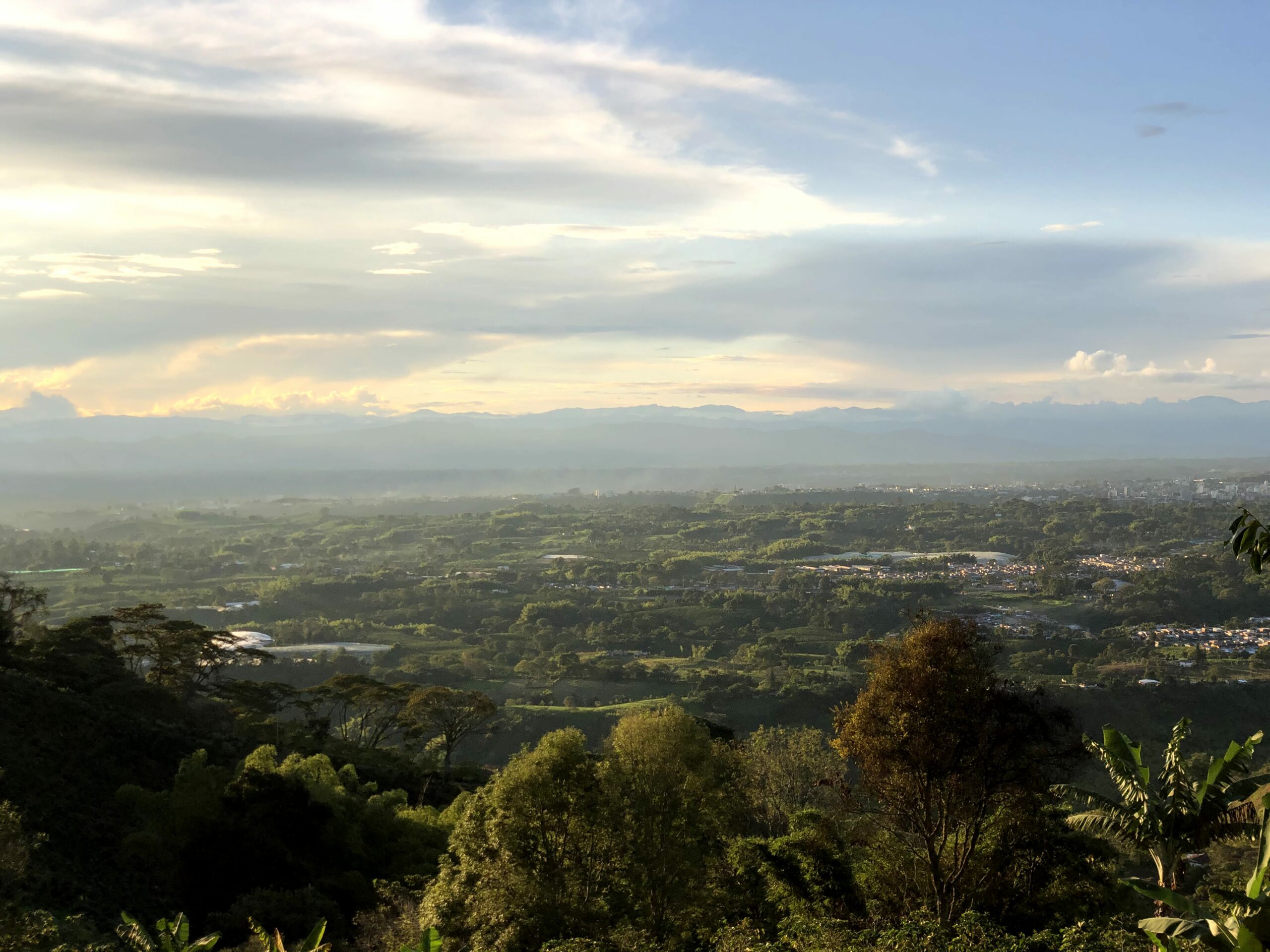 [El Fenix Farm. Photo Courtesy of Raw Material]
Now I hear you asking how does Ancoats Coffee get involved? Well back in 2017 our friend and customer Jack Walshe invested in Raw Material's Kickstarter in which companies or individuals were able to sponsor anywhere from a single tree to an entire lot of coffee at the farm, and Jack managed to secure himself a 1000 tree lot of Pink Bourbon Coffee. Jack bought into the vision of Raw Material's project and approached us in 2017 to see if we would be interested in taking on his lot for him, we jumped at the chance! We decided the best way to spread awareness was to sell the coffee right then and there, even though the first crop was still over 3 years away from reaching us here at the roastery. By releasing 50 boxes a year for the next 3 years we gave our customers a connection to the agricultural process of coffee and a window into what it takes to plant, grow, harvest, prepare, transport, ship, store, roast, package and distribute coffee. 
Back in Colombia the El Fenix project was continuing at a pace. The original farm back in 2014 needed a lot of overhaul to get it into the condition needed to produce high grade speciality coffee. The farm itself sits at 1700-1800 meters above sea level and there was only the most basic amenities present on the farm back at the start of the project.
[Ozzy the El Fenix farm dog. Photo courtesy of Raw Material]
The ultimate goal had always been to build a community wet mill; a processing facility which would add value back to the local community. Along the way, the team has built a cupping lab, an office, drying beds, accommodation for travellers (very nice accommodation) and more. The construction of the wet mill itself (the most laborious and expensive phase of the project) has been ongoing since the beginning. The original farm land was portioned up into 1000 tree lots of various different varietals. With Moka, Gesha, Wush Wush, Tabi, and Pink Bourbon now spread across the farm. This ground breaking project is at the forefront of coffee production and one that we are so excited to be a part of . So much so that when we sat down with the director of Raw Material  Matt Graylee, in 2018, he said this of the quality of the coffee and the project itself, 
​"Coffee quality has positively improved since beginning the project, even though we've been using only the old Castillo and temporary drying space up until now. We've gone from defective to 87 points, with the most dramatic impact coming from proper drying and storage. Now, all that Castillo has gone, replaced with the baby, rare varieties like yours [the Pink Bourbon lot]. With the new controlled fermentation station, controlled drying rooms and new varieties of cherries, the goal is to win some quality competitions in the coming years, whilst bringing up the quality of the entire region. We are aiming for extremely high scoring, repeatable 90pt+ coffees through systematic, relentless experimentation."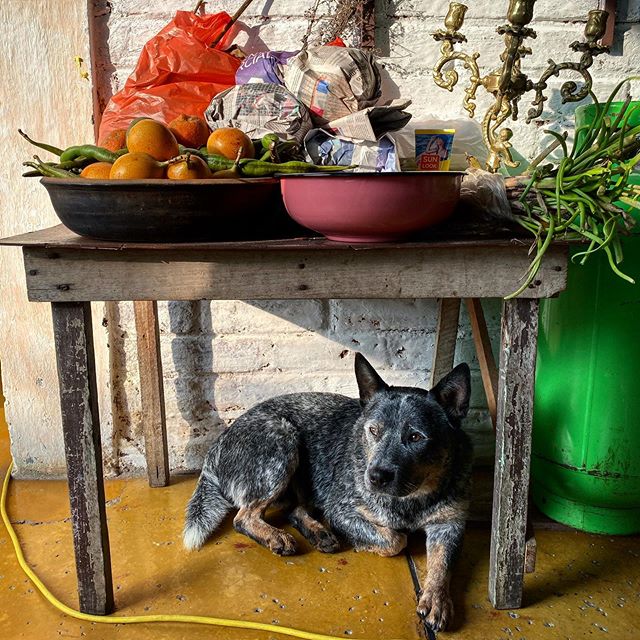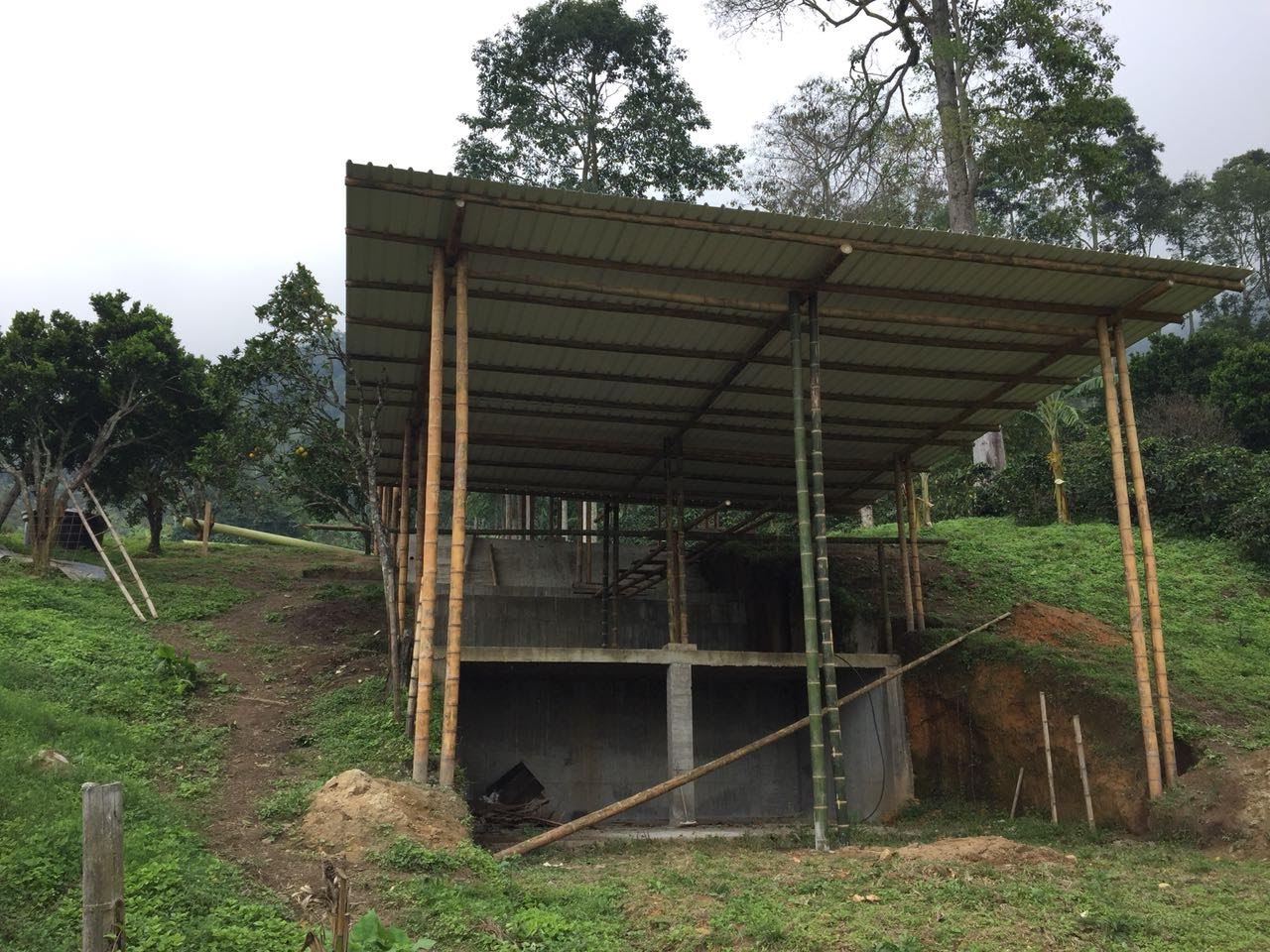 [Community wet mill prior to construction. Photo courtesy of Raw Material]
Beyond the larger specifics of the project as a whole, the lot we have secured is an experimental and exciting new variety of coffee called Pink Bourbon. This specific varietal according to Matt Graylee is one that
"​Typically results in a very sweet, bright cup, with a more complex array of completing notes compared to the benchmark of the same farm's production of a Caturra. This is based on what we've experienced so far at friend's farms over the years. Combined with a sound yield and reasonable nurture requirements, we chose this variety to compliment the farm's overall risk vs potential profile, as well as to meet some founder's specific desires."
Pink Bourbon is one of hundreds of coffee varietals and is a new expression of a well known variety of bourbon. The variety is less than a decade old and is known to grow shorter and wider than other varietals, meaning that the farm can plant 5,000 trees in a space that would usually only fit 2,500.  In summary this coffee is one that we can't wait to receive in the roastery, with the container due to arrive here in the UK in September and make its way to our roastery by the end of the month. This is a coffee that we have been waiting for a long time and the journey it has taken to reach us is nothing short of incredible. We will be posting and writing a lot more about this coffee in the coming weeks and months but for now we just want to extend our thanks to Raw material and all those at Finca El Fenix. It is their hard work and commitment that has brought this project to life. Finally we just want to offer one last thank you to our generous customers for investing in a more sustainable coffee industry for us all.
If you want to learn more about El Fenix click the link below to read the full 2018 interview with Matt Graylee and discover more about this innovate project.
[All photos courtesy of Raw Material]